Joe Spivey
- Sun, 06/24/2018 - 2:04am
The following day Joe sent Finny on an errand. When she had gone he waited for Casper, Onetooth and Worms to take their seats.
"Okay you three, listen up."
Not sure if they were in trouble or not, the three boys avoided Joe's eye so as not to become the focus of his attention. A perfectly natural and praiseworthy reaction to authority and Joe had been expecting it so he continued.
"Tomorrow is Finny's birthday. The Mrs. Joe and I are going to throw a surprise party for her at our gaff. You three are invited so here are the rules. One, you each bring a gift and it is to be nicely wrapped. Two, be clean. Have a shower and make sure your clothes are clean. If you guys dirty up Mrs. Joe's furniture or leave finger marks on the wallpaper she will not be happy with me which means I will not be happy with you."
Joe then folded his arms and stared directly at Worms.
"Three. No dead things. Nothing to do with dead things. No nearly dead things. No bugs, slugs or any of the other nasty little things I've confiscated off you in the past." Even though Worms never even glanced up, Joe was confident his message had gotten through. He turned his attention back to the whole group.
"Finally, four. Have fun, be nice and remember that Silja will be searching you all before you leave. Any questions?"
The boys looked at each other, communicating in the silent language of nods, shrugs and glances familiar to their age group. The result of this 'conversation' seemed to be that Casper, probably because he was the eldest, was nominated spokesperson. The nervous eight-year-old swallowed.
"Ummmmm we don't wanna go."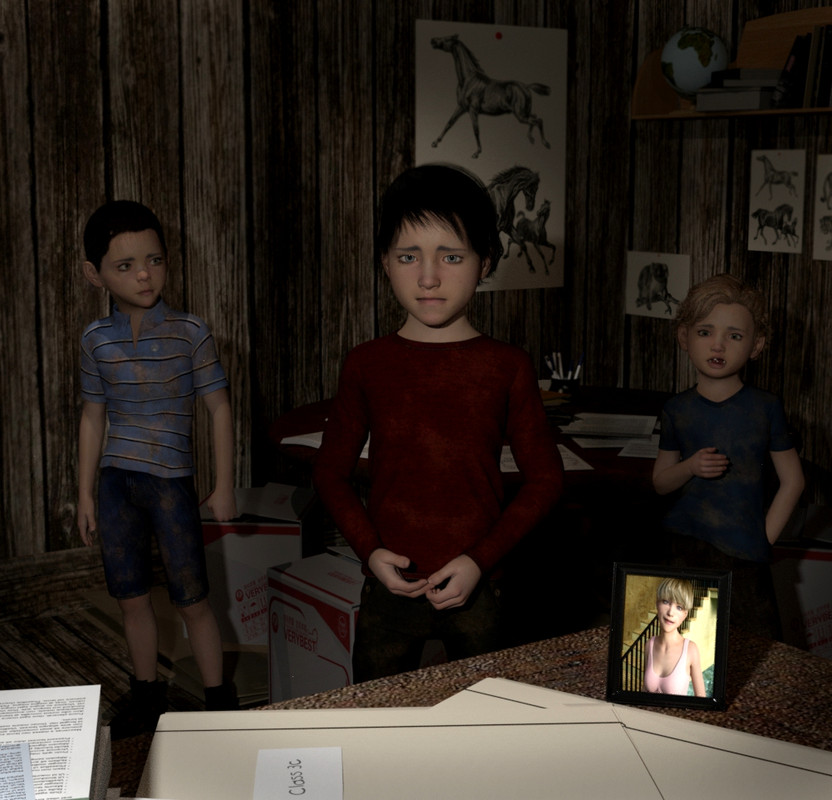 That halted Joe for a second or two.
"You do realise that there will be free food, right?"
Casper checked the faces of his compatriots before turning back to Joe.
"We don't think Finny likes us anymore."
It has been many years since Joe was eight, so juvenile logic was a long-departed stranger. However, he was about to get a visit.
"What? Why?"
Casper opened his mouth but the voice came from Worms.
"We told everyone on her for stealing your gun."
Onetooth added his voice.
"An' I let the bear chase me right to her."
Casper bowed his head and finally got to add his piece.
"I let that lady catch me. Finny would have beat them if I hadn't."
It was one of those rare moments in Joe's life when he didn't know whether to laugh or blow his top. Fortunately, he chose a middle ground.
"You dozy little sods." Joe drew himself up to his full height… Which was still impressive when you are only just over four feet tall. And put his fists on his hips. "Finny has been miserable all week because she blames herself for nearly getting you all killed, or worse. She's been miserable because she thinks everyone else blames her as well… Including you three."
Joe didn't bring up the other likely reason for Finny's depression because he already felt bad about that and making himself look bad in front of these three wouldn't help matters.
"So. You will go to the party. You will bring presents. And you damn well will tell her you what you've just told me so she stops thinking you blame her. Got it?"
Three heads nodded, already looking relieved to learn that Finny didn't actually hate them after all. Worms stuck his hand in the air.
Joe glowered.
"What?"
"Please Joe, we ain't got no money."
Muttering under his breath Joe dug his hand into one of his duster's numerous pockets and pulled out a handful of chips. The boys held their breath in wonder as Joe counted out five blue chips each into their grubby hands.
"Make sure you buy something Finny would like and not just what you would like."
"Yes Joe."
"And make sure it's wrapped up all pretty like, she's a girl and they like that sort of thing."
"Yes Joe."
"Right, bugger off before she gets back."
"Yes Joe."
There was a traffic jam at the door as all three boys tried to get out of the office before Joe changed his mind. It seemed, however, that they were too late when Joe's voice stopped them.
"Oi! Wait up." The boys slowly turned, tightening their grip on the chips in their hands. Joe treated them to a shark like smile. "Do you know what receipts are?"